Home
›
SHOW TIME - Band Rehearsals and Performance Day!!!
Hey Dudes and Divas!
Welcome to Singer Forum by Ken Tamplin Vocal Academy. Enrolled KTVA vocalists have access to the full singer forums, self-registered members have access to limited areas of the KTVA singing forum. Register to learn more.
To enroll in Ken Tamplin Vocal Academy Singing Lessons click here.
Performing in a singing competition final while being sick
victortang
Posts: 488
2.0 PRO
For those who may want to hear of a real life experience with singing while being sick. Here it is.
I have been fighting a cold for the last 4-5 days. Long story short, I took every bit of advice Ken gave in his youtube video (below link) except getting a nebulizer. At it's worst, I was having a sore throat and sneezing about 800 times a day. When I wake up in the morning, I felt like singing will not happen for the next 6 months!!! Horrible. This was the first time I caught a cold in at least 25 years....TRUE!!!.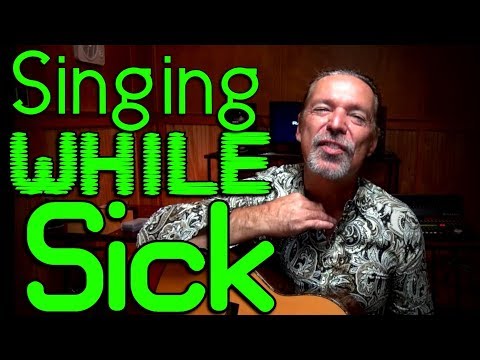 Anyway, today is my BIG day. I got into the final contest after the heats and semi finals etc weeks ago....
Guess what, I am now typing this at 745am, and feeling like crap. Nose running, throat itching, voice sounding like ....well, like an unwell person. But I know that after I go through the warm ups, the tumeric drink and the glutathione, I will handle this singing contest like (almost) nothing had happened.
The truth is, I will be 85% of what I should be. But hey, without all that stuff that Ken taught in that video, I would be 30%!!! True!! In fact, yesterday, after warming up twice (1-2 hours each time, taking my time, resting in between exercises), I was told i sounded the best I have ever sounded.
The performance I have prepared is going to be very challenging. A medley of 3 songs with very different voice registers. NEW YORK NEW YORK (chest voice mainly below the primo passagio). IS THIS LOVE Bob Marley (A higher register that will hit the primo passagio and above), then HIGHWAY TO HELL (hitting the Secondo Passagio and above, using distortion and head voice and mix voice...)
To transit from one song to the other of those nature, will be challenging as the muscles may get caught. The Larynx has a lot of work to do. From a lowered position, I will have to negotiate my way to an appropriately high position. All the time with an open throat. To make things "worse", I will be controlling my excitement while strategically modifying vowels and putting special attention upon certain consanents to make sure my open throat is maintained from one vowel to another.
No one told me 4 and a half minutes can be so complicated!!!
Damn it! It all sounds too daunting. I think I might just stay at home!!! Hahaha....just kidding.
ANYWAYS....Thanks to Ken! I think if i become wealthy I will make a bronze life size statue of Ken Tamplin!!! No, make that Gold.
I will post a video of my performance here later on.....