Home
›
VOCAL DEMONSTRATIONS for the Bold!
Hey Dudes and Divas!
Welcome to Singer Forum by Ken Tamplin Vocal Academy. Enrolled KTVA vocalists have access to the full singer forums, self-registered members have access to limited areas of the KTVA singing forum. Register to learn more.
To enroll in Ken Tamplin Vocal Academy Singing Lessons click here.
Red Hot With Chilli Wasnames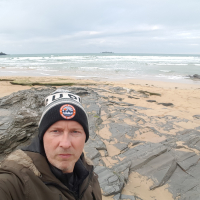 Gary_Williamson1971
Posts: 9
Member
Im pushing my luck posting in this section i know, but im going to share my favorite 5 recordings i have done since i started trying to sing. They are not in order of when they were done, but ive probably not progressed over 6 yrs. Elvis style slow ballads are the easiest for me to sing and anything other than that style is a struggle. Most of them would be take 30-40.
Anyway. This is where i am going to be charting my progress.. best get the "Before Starting KTVA examples " out of the way. Some may be painful for your ears 😯 🤘🤘🤘
Kicking off with an attempt at RHCP Dont Forget Me
Peace 🤘