Home
›
INTRODUCE YOURSELF
Hey Dudes and Divas!
Welcome to Singer Forum by Ken Tamplin Vocal Academy. Enrolled KTVA vocalists have access to the full singer forums, self-registered members have access to limited areas of the KTVA singing forum. Register to learn more.
To enroll in Ken Tamplin Vocal Academy Singing Lessons click here.
Greetings!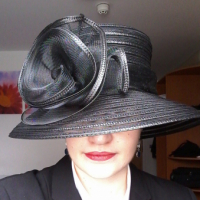 Wenchie
Posts: 3
2.0 PRO
I'm Sarah, and I live near the Surrey/London border in the UK. It's nice to meet you all.
I don't remember a time when I didn't sing. I used to spend pretty much all hours of the day singing for my own enjoyment since before I could talk. I never had any sort of voice training at all and while my voice wasn't spectacular, I could hold a tune and was happy with the results. I loved singing. I sang while I cooked, while I worked...while I did pretty much anything. Around my 30th birthday, I developed Myalgic Encephalomyelitis (known in some places as Chronic Fatigue Syndrome, CFIDS and several other names). Within a year I was pretty much bed bound. My muscles had no strength and I would get exhausted after very little exertion. This very quickly included my throat muscles and within another year I couldn't even get to the end of an easy song without my voice going constantly out of tune and cracking. I had to stop as it was exhausting me. Over a decade later, I've finally managed to get some of my life back. I can walk under my own power again, although not for too long at a time yet and I'm doing lots of slow gentle exercise to try to get strength back into my muscles. I didn't know how to fix my voice though as I'd never used any sort of formal vocal exercise before.
So that's why I'm here. I know it's going to be frustrating for me and take a long time, but I want my voice back. It honestly feels like I lost a limb or something as it was always so big a part of me. I'd happily take having a better voice of course, but more than anything, I'd just like to be able to sing for my own pleasure again and feel like myself again.