Home
›
Ken Tamplin Vocal Academy REVIEWS
First live performance in 20 years!!!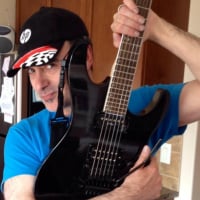 Furious_Phil
Moderator, Pro, 2.0 PRO, 3.0 Streaming
Posts: 1,421
Well, This past Saturday marked the first time I've performed live in a little over 20 years, and ironically it was with the same bandmates I last performed with
We formed the power trio called "Ground Zero" about a year and a half ago and cover everything from Stevie Wonder to the Lynch Mob, so I have to really watch that I don't overdo it getting the rasp/distortion of Oni Logan right before I have to clean up and go all mo-town vocals on pieces like Higher Ground or Superstition (The music is more hard rock, but the vocals maintain the Motown feel).
Anyway, we did a set at a house/Halloween party and first off, I had totally forgotten the charge one gets while interacting with an audience!
Secondly, I was getting pulled aside afterwards and getting praised on both my guitar wizardry, but even moreso on my vocals!!
The first few compliments felt very nice to hear, but the following dozen made me stop and think... Have I really grown that much in a year?
(FYI: I just celebrated my 1 year anniversary as a student of the KTVA)
One of the people that talked to me after the set knew what I sounded like a year a year and a half ago when the band first got together, and he basically asked what the hell happened to my voice! His eyes welled up and he hugged me. (I was gobsmacked)
For reference, a year and a half ago was a time when the other bandmates were regularly bringing in other singers so I could "focus more on my guitar playing"... if you catch my drift. This person insisted I told him who/where I got my training from, to which I told him and gave him the link.
Long story short, this exceeded my deepest desires that someone might actually take notice and enjoy the music we performed and maybe, just possibly notice the hundreds of hours I've spent on the KTVA program. I am humbled by the experience, and driven to continue on with the process of developing my voice to the next level.