Home
›
Musical Gear and Equipment!!!
Vocal effects for live performances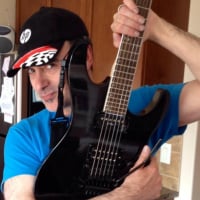 Furious_Phil
Moderator, Pro, 2.0 PRO, 3.0 Streaming
Posts: 1,421
Not sure if this has already been covered, so here goes...
I recently did a room recording of a rehearsal with myself and another musician.
Her vocals were going direct into a powered speaker with very little onboard reverb and delay in the mix, and mine went through a separate powered speaker with about 10%+ more FX mix.
The end result was that her voice stood out clearly in the recording mix, while mine, even with more resonance, sat back a bit more than I'd like. Guessing it had to do with the difference in voice frequencies perhaps? I am also thinking that possibly the bit extra reverb made my vocals "sit back" in the mix.
What are your experiences with it, and what (and how much of it) do you run on your live vocals to keep them crisp?
@videoace
@TommyM
@Gypsysinger
@streeter
@Alyona
@highmtn
PS - Gear: Sennheiser E945, TC Helicon VoiceLive Play, Peavey PR12 powered speaker
Cheers,
Phillip