Home
›
VOCAL DEMONSTRATIONS for the Bold!
COLLAB DEMO: Ken & Doc - Do your "LAH-AH"

doc_ramadani
Administrator, 2.0 PRO, Facility Management
Posts: 3,978
Divas, Dudes,
after 3 days on the Starter Exercises of Volume 1 I knew I was great. So I thought it would be a great idea to contact the only one singer who would be worth to do a collaborative demo with: Ken.
I sent him E-Mails, called him on the phone, left messages on his answering machine, sent smoke clouds, sent him letters, used the bush drums and wrote post after post in his forums. He didn't answer. I thought: "Well, this guy seems to be VERY busy."
Then, my buddy Shane (
@HuduVudu
) had a great idea. He told me that I should ask Kens alter ego (Youtube-Ken). And guess what? - Youtube-Ken immediately answered and agreed to do a collaborative demo. Here it is: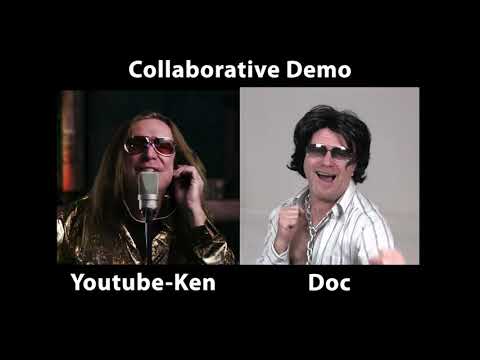 https://www.youtube.com/watch?v=40OzWwcqeDQ
Doc
@highmtn
@HuduVudu
@victortang
@Vocality
@Klaus_T
@Sophia
@Wigs
@cwcw
@IraR
@Gaston_Jauregui
@Furious_Phil
@blondiewales
@juanmarivley
@Michael4000
@LoneWolfRogue
@DevonMoore
@rileydo
@Rick_amateur
@Jáchym
@Andi77
@Maximus3000